Director: Kevin Smith
Writer: Kevin Smith
Stars: Justin Long, Michael Parks, Haley Joel Osment, Genesis Rodriguez
In this first installment of the "Yesteryear" posts, we'll be tackling
Tusk
, the newest film from Kevin Smith that came out last year. When I heard about this movie, I was really excited—I normally love Kevin Smith's films, and the whole premise sounded pretty funny. You'll notice that I said I
normally
love these flicks. That's because
Tusk
left me utterly confused as to what genre Smith was shooting for here.
Tusk tells the story of a foul-mouthed podcaster named Wallace Bryton (Long). He and his friend, Teddy (Osment), run a podcast show called the "Not-See Party," where Wallace watches a weird news video and explains what's happening to Teddy, who doesn't even see the video (hence the "Not-See" part of the podcast's title). Wallace travels to a small town in Canada to interview a viral video sensation, but when his potential podcast story falls through, he needs to find another piece of weird news. In the bathroom of a Canadian bar, he finds a cryptic, handwritten letter pinned to a bulletin board; following the instructions on the letter, he arrives at the mansion home of an eccentric, wheelchair-bound man named Howard Howe (Parks). Howe's stories seem too good to be true, which Wallace soon finds out. When the mysterious Howe takes Wallace as a prisoner, Wallace's girlfriend, Ally (Rodriguez), and Teddy desperately search for him.
The genre of this movie was the most confusing thing for me. Smith's heyday was in the 1990s, and most of his movies—if not all—were comedies. One of my favorites was Dogma, a hilarious poke at religion featuring Matt Damon and Ben Affleck, but he's probably most known for his black and white Clerks. Smith's comedies are absolute gold with endlessly-quotable dialogue and quirky, memorable characters. I didn't get the same vibe with this movie, though, because Smith tried to make a horror-comedy…emphasis on the tried part. There's a fine line between horror and comedy, and it takes a delicate balance between both genres to make it work. I recently watched a movie called Zombeavers—radioactive zombie-beavers attack a group of college students. Also, see Tucker and Dale vs. Evil, where two hillbillies go to the lake and accidentally run into some college students who are convinced the two yokels are Deliverance-style murderers. I thought both of these movies were great, simply because they didn't take themselves too seriously—they knew that they were couching a horror movie in terms of a comedy, or vice versa, and they were okay with it.
I feel like
Tusk
went too deeply into each of these genres instead of blending the two together. There were plenty of parts that I thought were
purely
horror instead of trying to make a horror scene funny. Part of the issue there lies with Parks' performance. In many of his scenes, he actually comes off as a genuine psychopath, which was actually pretty scary, and Howe's dialogue toward Wallace is frightening. The cinematography of Parks' character during some of these scenes reinforces that menacing portrayal. For a horror-comedy, things got a little too real during the scenes showing Wallace's abduction and captivity at the hands of Howe.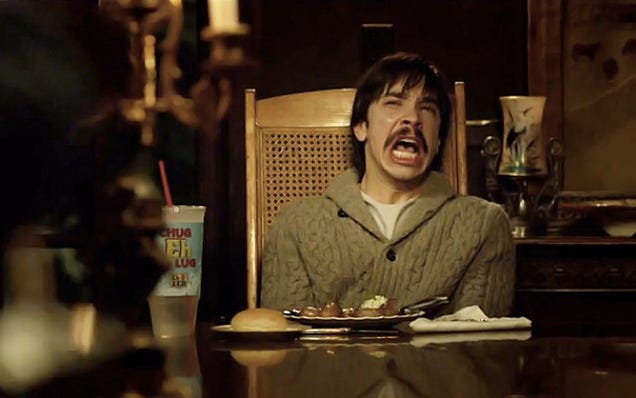 Another seemingly miscast role was Justin Long. There are certain roles where I think Long is a decent comedy actor—he was great in
Dodgeball
as a geeky teenager, and his similar role in
Accepted
as a smart-mouthed college kid was enjoyable. Smith has used Long in a cameo role previously in
Zack and Miri Make a Porno
, portraying a gay porn star, and I found that incredibly funny. A lot of these roles were pretty over the top in the comedy stuff, and comedy is right in his wheelhouse.
Tusk
, however, represents a role way out in left field. The seriousness of some of the horror scenes don't fit Long's acting style at all—as he tries to spin a comedic character, he's
painfully
unfunny. For having just met Howe, a mysterious old man who Wallace plans to interview, Wallace speaks with a disgustingly-unamusing candor, almost like Long (or Smith as the writer) was trying too hard to inject some laughs into the mix.
The pendulous way Smith swings from horror back into comedy feels really jarring, and again, it's hard to tell if he was trying to make a horror film, a comedic romp, or a horror-comedy. Instead of blending the two genres together, we get a comedic sequence followed by a horror scene, then back and forth and back and forth. After one scene that's actually pretty disturbing where Howe drugs Wallace and experiments on him, the audience is snapped back to Teddy and Ally's search for Wallace—a search that's supposed to be hysterical, but ends up being the same trying-too-hard string of jokes. The whole movie hinges on Canada jokes and Canadian stereotypes, and as I watched, I felt secondhand embarrassment for any Canadian viewers. These drawn out sequences absolutely rag on our lovely neighbors to the north, and it was, again, painfully unfunny.


This is, in all honesty, the first Kevin Smith movie that I'm not happy that I watched. There was a laugh or two that I got, but most of the humor in this movie just grated on me and didn't even make me smile. This movie was based on a "smodcast" from Smith, and a friend of mine said she really enjoyed Tusk since she'd been listening to the movie take shape through these smodcasts. Part of me wonders if it wouldn't have been better if Tusk had just remained an idea that floated around the smodcast studio and nothing more.

Now that that painful review is over, you may have noticed a small addition to the top-right corner of this blog. I've registered Ticket Stubs and Popcorn Tubs with Bloglovin', which makes it easier for you to follow your favorite blogs and search for new blogs that pique your interests. Give it a shot!